Nevada County Fishing
Outfit Yourself for Fishing Adventures
Donner Summit Information
For complete information about fishing, camping, and other recreation along the Interstate 80 Corridor over Donner Summit, see
Around Donner Summit.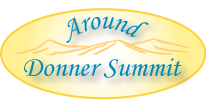 Nevada County offers a broad variety of fishing destinations for anglers of all interests. On the western slope of the Sierra the Middle Fork of the Yuba River (paralleling Highway 49) and the Bear River (paralleling Interstate 80) mark Nevada County's northern and southern borders respectively.
A number of large reservoirs such as Bowman Lake and Spaulding Lake (shown above) are found in the high country on the west side of the summit, while to the east are Prosser Creek Reservoir and Boca Reservoir, both popular as fishing destinations. The Truckee River flowing out of Lake Tahoe is world-renowned for its fly fishing.
Many of the featured trips in this guide are in the Grouse Ridge area. Its popularity comes from its relatively easy terrain and its multitude of lakes. Located north of Interstate 80 off Highway 20, Grouse Ridge's most heavily used access points are at Grouse Ridge Lookout, Carr Lake, Lindsey Lake, and Sawmill Lake. Anglers could set out from any of these points and spend all day fishing from lake to lake.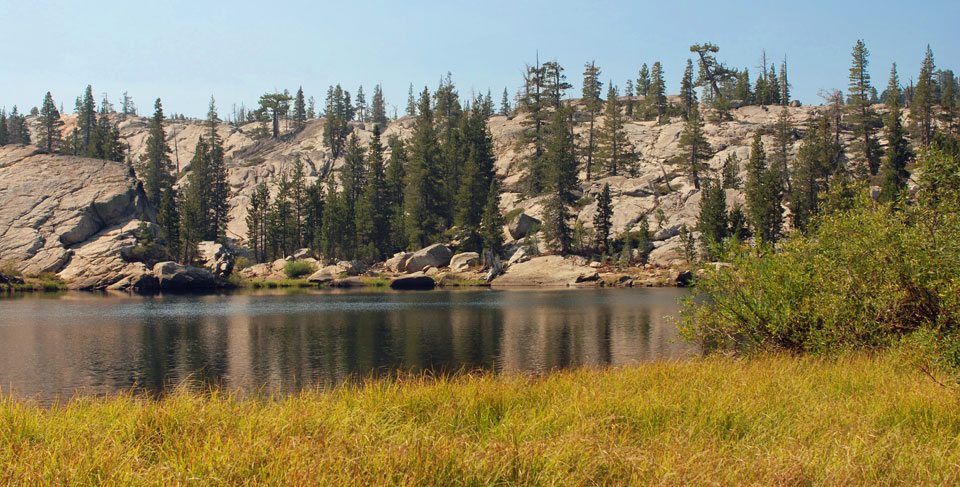 A moderate 2½-mile hike in the Grouse Ridge area sets you among the Cooked lakes
Great for fly fishing and spin casting
Many other lakes within easy walking distance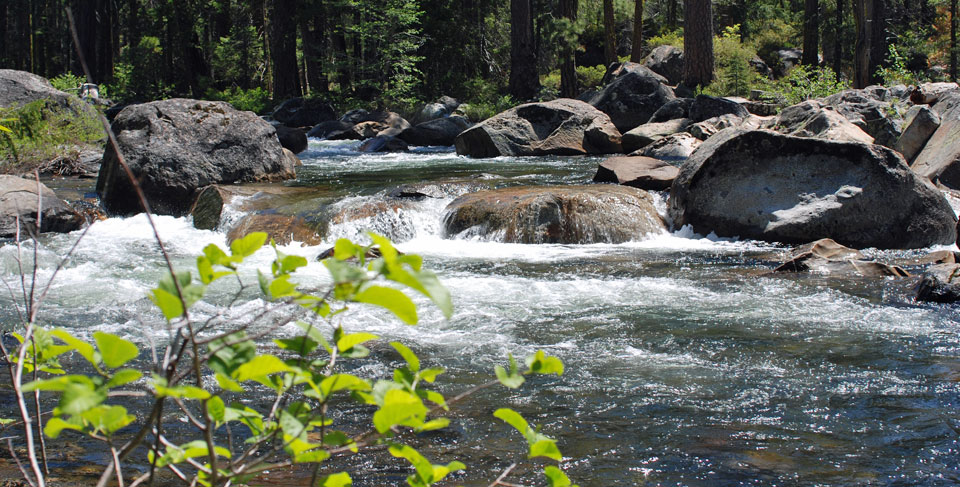 Adventurous fishing upstream from Lake Spaulding
Fish for rainbows, brooks, and browns
Hike in from Eagles Lakes or from Lake Spaulding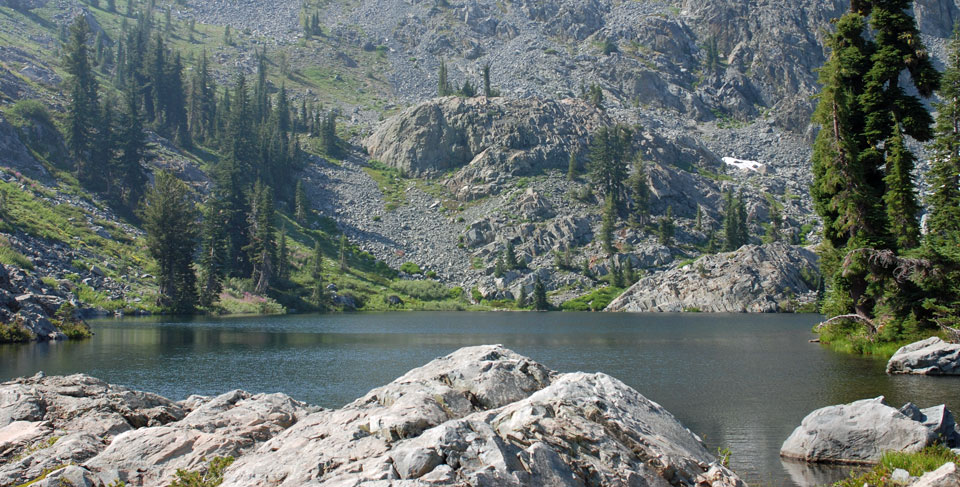 A 3.2-mile hike from the Grouse Ridge lookout
Good overnight destination with the possibility of landing golden trout
Within hiking distance of other fishing lakes, including Lake Basin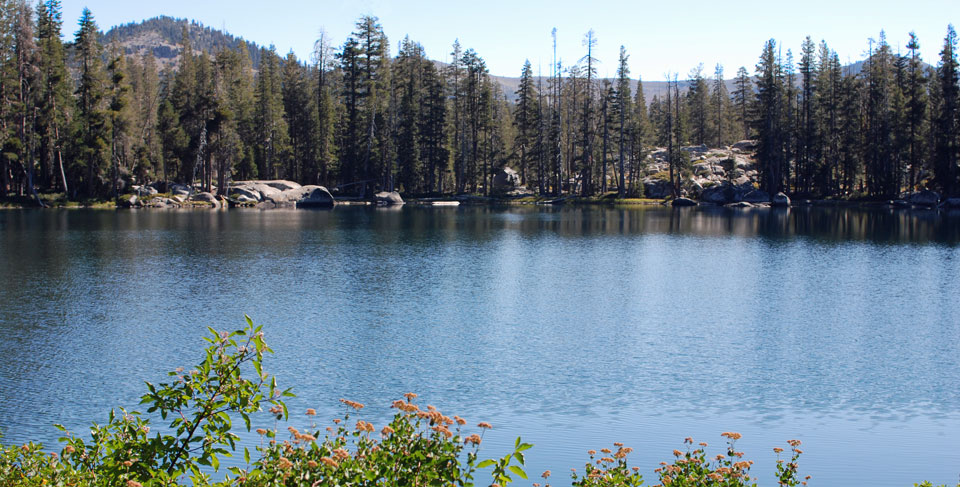 A 3.3-mile hike near Soda Springs, gaining 735 feet
Great views of Donner Summit along the trail
Makes a nice overnight destination to introduce children to backpacking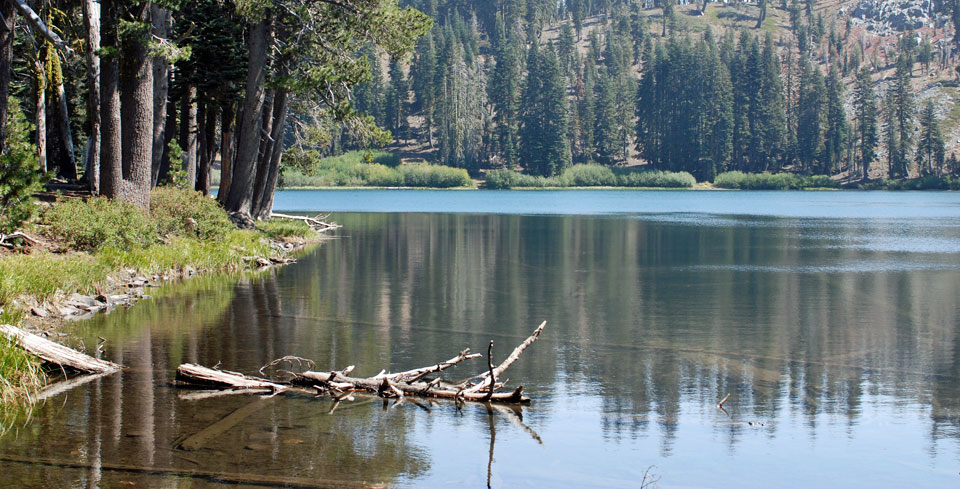 A 1-mile descent from Grouse Ridge Lookout
Combine this trip with nearby Round Lake and Crooked Lakes
One of the best fly fishing lakes in Grouse Ridge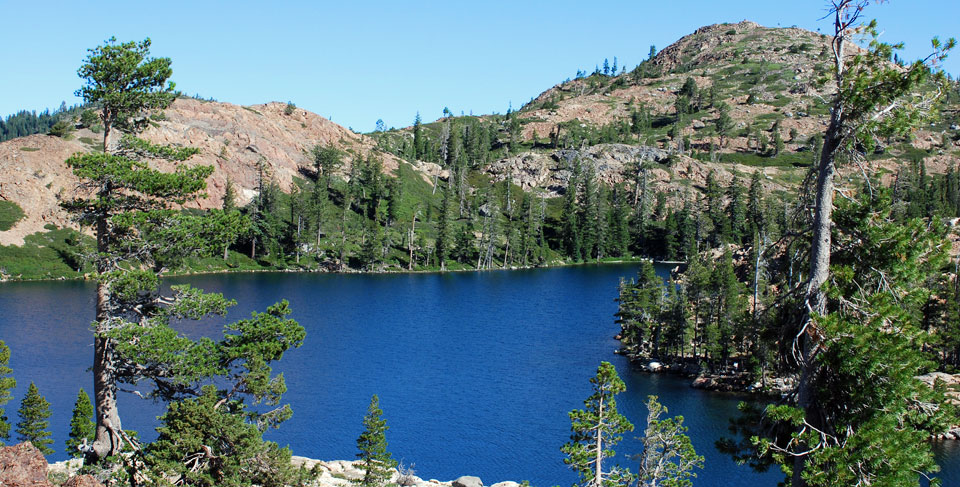 Hike 3 miles in the Grouse Ridge area over moderate terrain
Combine this outing with trips to Crooked Lake and Rock Lake
My favorite fishing lake in all of Grouse Ridge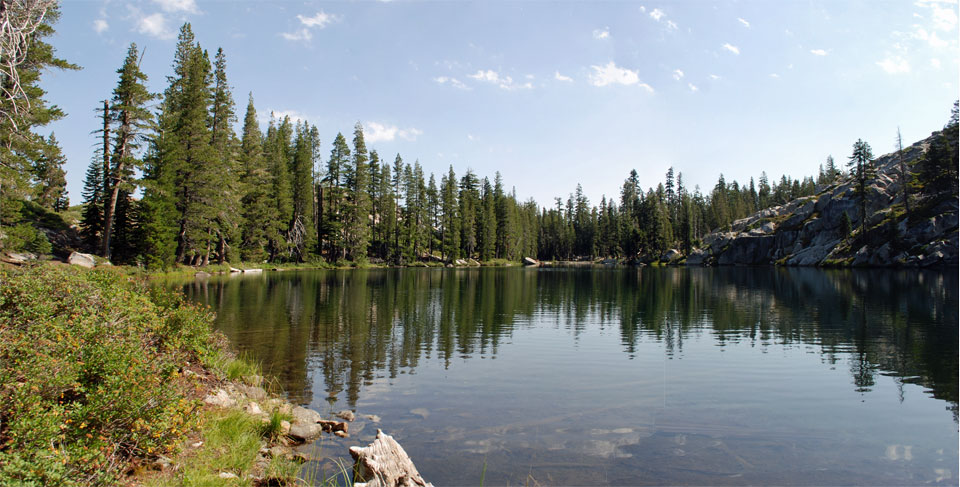 An easy 2-mile jaunt from Carr Lake in the Grouse Ridge area.
Combine with trips to Milk Lake and Crooked Lake
Chances are good you will have the lake to yourself
Scattered Lakes and Reservoirs
Near Grouse Ridge are a number of small lakes and reservoirs that offer good fishing. Most are accessible by car, some only by 4-wheel. On the Bowman Lake road Fuller Lake is a popular fishing stop. Nearby are Rucker Lake and Blue Lake, while farther back the Bowman Lake Road and then up a rutted dirt road you find Weaver Lake. Part of the lake is private property, but the public side offers at least one very nice camping spot. Far out the dirt road past Bowman Lake you will find Sawmill Lake and the Faucherie Lake. Despite their remoteness, they are popular in the summer. If you hike to other lesser visited lakes such as Weil Lake you will have better luck fishing.
At lower elevations are popular fishing spots such as Rollins Lake and Scotts Flat Lake. Sections of the Bear River are known as productive fishing waters.
Recommended Books for Fishing Nevada County