El Dorado County Fishing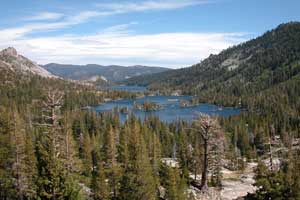 Outfit Yourself for Fishing Adventures
Echo Summit Information
For complete information about fishing, camping, and other recreation along Highway 50 over Echo Summit, see Discover Echo Summit.

Fishing El Dorado County offers a broad diversity of waters in which to try your luck, ranging from Folsom Reservoir on the west to Lake Tahoe on the east. Popular flat water accessible by car include Union Valley Reservoir, Ice House Reservoir, and Loon Lake. To my mind the best fishing in El Dorado County is in the high country, off the beaten path.
A popular trailhead into the Desolation Wilderness is at Echo Lakes near Echo Summit on Highway 50. From the Echo Chalet you can catch a water taxi to the far end of Upper Echo Lake, saving yourself 2½ miles of hiking and putting you well on your way to fishing in the Desolation Wilderness.
From there it is only 3 miles to island dotted Lake Aloha. A half dozen other small lakes are in the area. Some of these lakes have been designated for habitat restoration of the yellow-legged frog and, consequently, all fish have been removed from Lucille, Margery, Tamarack, Ralston, Cagwin, LeConte, and Jabu lakes as well as from connecting streams and a pond west of Lake Lucille.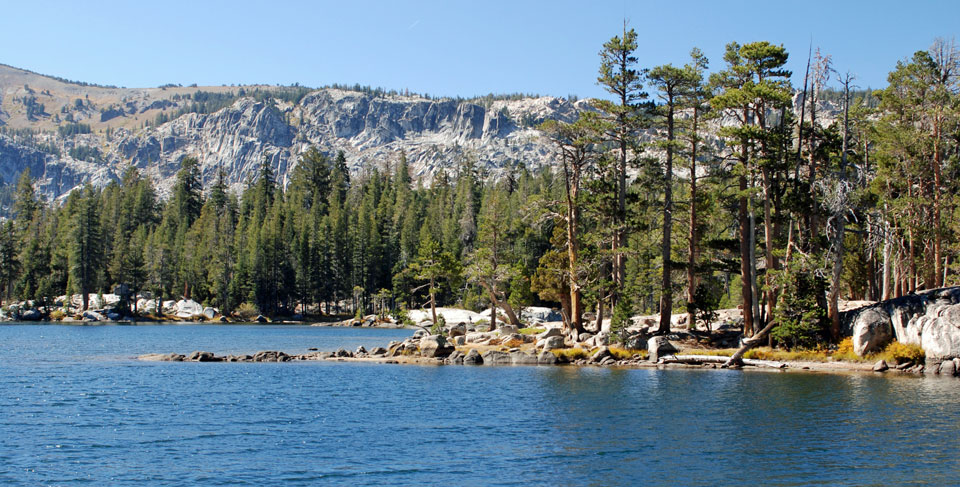 The trailhead is only a 20-minute drive from South Lake Tahoe
The trail climbs 1000 feet over 3.25 miles to the lake
Enjoy as a day outing or overnight backpack fishing for brook trout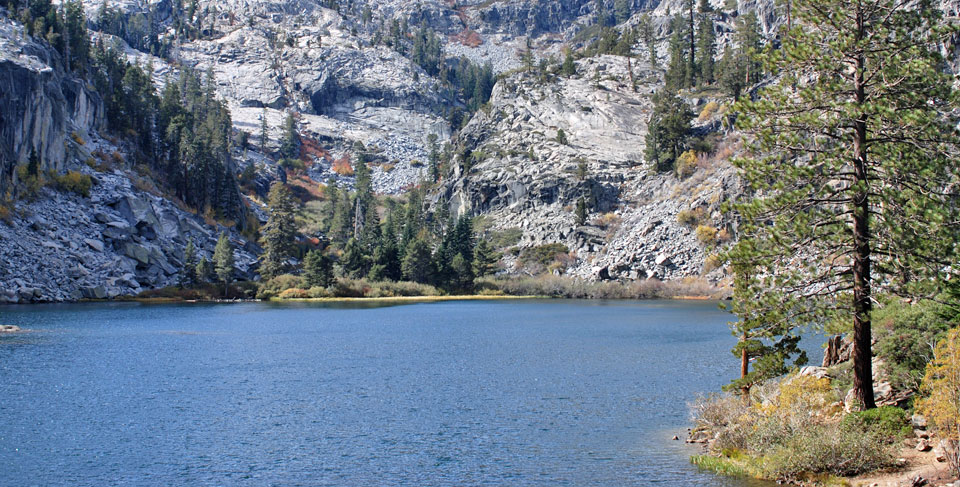 An easy 1-mile hike climbing 450 feet
Magnificent views of Emerald Bay and Lake Tahoe along the hike
Include as the beginning of a multi-day trip into the Desolation Wilderness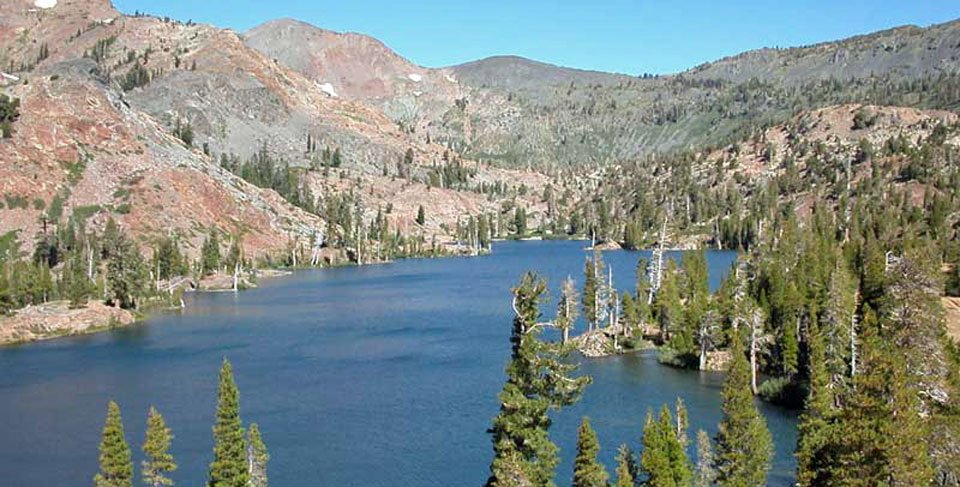 Set in the beautiful Desolation Wilderness
A 4-mile hike from Fallen Leaf Lake
Centrally located basecamp for fishing other lakes and streams in area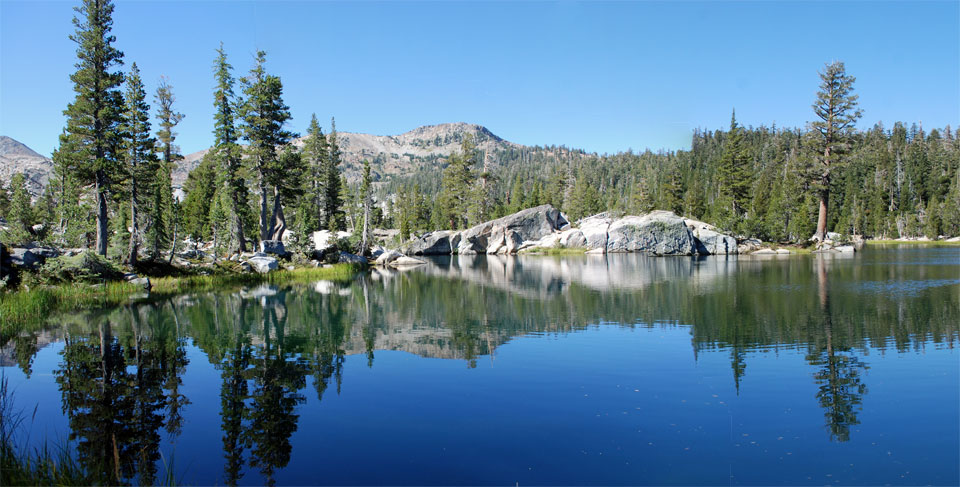 Desolation Wilderness, 4 miles from Lake Tahoe's Emerald Bay
Fish all the Velma Lakes for brook and rainbow trout
Camp lakeside and wake up to great fishing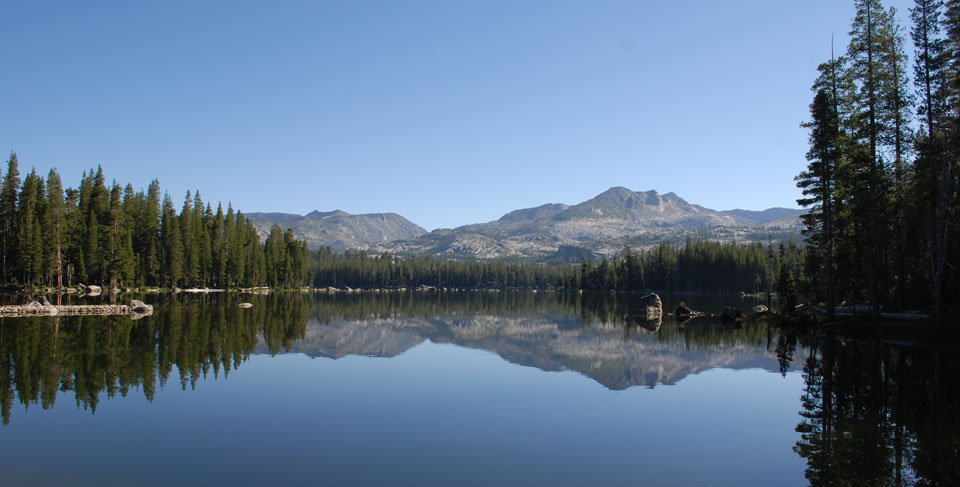 Tucked away in the Crystal Basin
A drive-to lake with family camping and no motorboats
A beautiful setting for fishing and enjoying tranquil days in the Sierra
More Desolation Destinations
Another popular entrance to the Desolation Wilderness for good fishing is from Fallen Leaf Lake. The trail leads up to a cluster of lakes such as Gilmore Lake, Susie Lake, Half Moon Lake, and Heather Lake (see Susie Lake). The Emerald Bay trailhead (see Eagle Lake) leads past Eagle Lake to all the Velma Lakes, Dicks Lake, and beautiful Fontanillis Lake. On the west side of the Desolation Wilderness many people like to begin their fishing outing at Twin Bridges or Wrights Lake. Like the Fallen Leaf trailhead, these begin with a stiff uphill hike.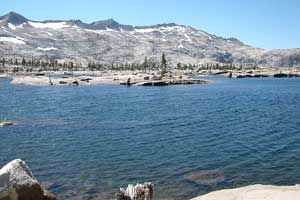 Meiss Country
Located southwest of Lake Tahoe near the Luther Pass road, the Meiss Country offers solitude and beautiful scenery without the high elevations and steep climbs of the Desolation Wilderness. The Dardanelles Lake trip, one of our featured trips, takes you into the heart of Meiss Country. Scotts Lake is only a 2.5 miles hike from the trailhead. Fishing is not allowed in Meiss Lake. Check your California Fish and Game site for special fishing regulations for the Upper Truckee River.
Crystal Basin
A surprising number of people don't know about the wonders of the Crystal Basin, a region of reservoirs and streams off Highway 50 just a few miles east of Pollock Pines. Camping, boating, and fishing abound in places like Union Valley Reservoir, Ice Hosue Reservoir, and Loon Lake. See our featured trip to beautiful Wrights Lake. For maps and more informatiion about the Crystal Basin, see our sister website Discover Echo Summit.
Recommended Lures, Books and Maps for Fishing El Dorado County