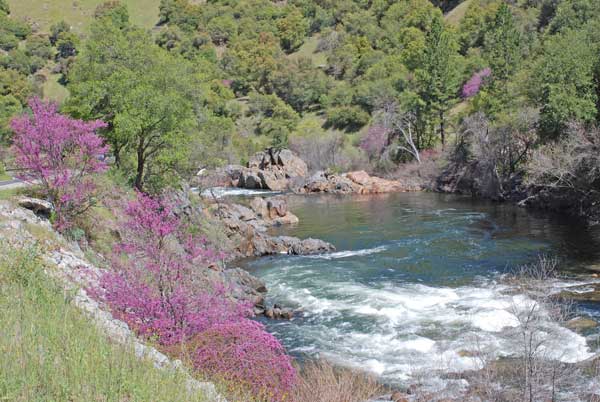 Fishing Yosemite: Merced River Overview
Although the stretch of Merced River from El Portal to the South Fork is not within the boundaries of Yosemite National Park, it is often a fishing destination for anglers staying in the park. This part of Merced River offers convenient access with Highway 140 tracing its course. Special fishing regulations govern this section of the Merced River. For the short section from the Yosemite National Park boundary at El Portal to the Foresta Bridge, fishing is allowed all year with barbless, artificial lures or flies. Rainbow trout are catch and release. Below the Foresta Bridge fishing is allowed year-round also, although during the off-season (Nov. 16 to opening day in April), the limit is two.
The Merced River here alternates between long riffles and pocket water. Most of it can easily be fished from the shore. It is usually a good early season fishing destination when upper streams are still snowbound. Once the spring runoff begins in April the water can become rougher.
Steve Beck's Yosemite Trout Fishing Guide, shown below, discusses this section of the Merced River, describing the hatches and giving suggestions for the best flies to use.
Recommended Books for the Merced River and Yosemite National Park
Yosemite Trout Fishing Guide, Steve Beck. Complete information about fishing all parts of Yosemite from the lower Merced River to the Lyell Fork Suggestions for which flies to use, when the hatches usually occur, and stories about early fishing in Yosemite.
High Sierra Fly Fishing, Basics to Advanced Tactics, Billy Van Loek. This is the book I go back to again and again to improve my technique fishing the high Sierra. A great resource on which flies to use and how to fish the high lakes and streams.
Trout Flies for Rivers: Patterns from the West that Work Everywhere, Carol Ann and Skip Morris. (2009) Filled with both hot new flies and proven, reliable standards plus tips on how, where, and when to fish these patterns. Step-by-step instructions for tying the most effective trout flies for rivers across North America. Includes DVD.
Fishing Yosemite: Approach to the Merced River
To reach the section of the Merced River from El Portal downstream to the convergence with the South Fork, drive from Mariposa east toward Yosemite on Highway 140 about 29 miles. Be aware that traffic is funneled through a one-way, single-lane stretch across two bridges and along a short detour where a big landslide several years ago closed the road. Traffic lights control the flow of cars. On week days it probably wouldn't be much of a delay, but on busy weekends it might cause backups.
If you arrived in Yosemite National Park by one of the other roads, then simply head down Highway 140 out of the park along the Merced River until you reach El Portal. Parking is available along the shoulder of Highway 140 in many sections, sometimes in places with large turn-outs. Access to the river is usually quite easy, sometimes involving a little scrambling over rocks. During times of high runoff the river can be very dangerous. The water is cold and the currents are swift.
In My Creel:
For Fishing Yosemite on the Merced River I tried out a number of flies and then gave my spin casting out fit a whirl.
#16 Olive Caddis
#16 Zug Bug nymph
#14 Elk Hair Caddis
#16 Adams
Rooster Tail
Bear Valley spinner
Fishing Yosemite: Accommodations and Supplies:
Lodging is available, of course, in Yosemite Valley at Yosemite Lodge, Camp Curry and the Ahwahnee Hotel. Prices are steep and you should make reservations early. Another option is the Wawona Hotel, located 4 miles from the park's southern entrance. You can save money by staying outside the park in nearby El Portal where there are several large motels. Another possibility is to stay in nearby Midpines (22 miles west on Highway 140) or even Mariposa (29 miles).
Campgrounds abound in Yosemite, but finding an empty campsite is difficult during peak season. About half of Yosemite National Park's campgrounds are on a reservation system. Reservations for them are essential from April through September. The first-come, first-serve campgrounds usually fill up by noon during busy times. The only non-reservation campground in the valley is Camp 4, which fills up by 9 am in the summer.
Along the Merced River just west of El Portal is privately owned Indian Flat Campground which offers RV sites with hook-ups, tent sites, and two cabins. KOA has a campground at Midpines.
I always check Orvis' website checking out the best new flies and rods and reels. On your way to Fishing Yosemite on the Merced River you can pick up fishing supplies at
Yosemite Village Sport Shop, Yosemite Valley
Curry Village Mountain Shop, Yosemite Valley
The General Store in Wawona, Tuolumne Meadows or Crane Flat
Sportsmen's Den, Highway 41, Oakhurst
Lucky Logger Liquors, 5188 No. Highway 49, Mariposa
Other Nearby Featured Trips in Yosemite: